Air Predict: Software tool for the simulation of dust spreading due to a particulate emission. Based on the Industrial Complex Model (ISC 3) it is possible to locate one or more sources of emission and simulate the spreading around the sources using a map of the field. The tool allows to customize the material to simulate.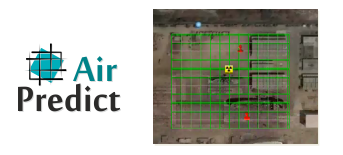 ---
CICorrosion: This software allows to determine fluid corrosiveness (monophase and multiphase) through simulation by knowledge of the following aspects:
Physicochemical composition
Design conditions stablish for transportation.
Operational conditions during transportation.
It uses the models: Waard & Lotz 93, Waard & Lotz 95, Norsok, Flow Regime models and the CIC model for the calculation of corrosion rate by CO2 and H2S.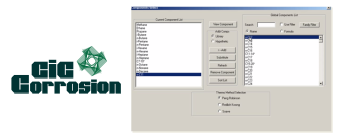 ---
CICErosion: This software allows to predict erosion wear rate in pipelines and accessories (pipe straight section, elbow, tees, reduction) caused by fluid transportation with suspended solid particles, taking into account the guidelines of the standard: DVN RP0501, API RP14E and the models Salama and Salama & Venkatesh.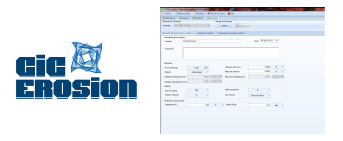 ---
CICScales: Software tool for the prediction of mineral inlay of more than 30 different solids. The tool does thermodynamic calculations of the gas-liquid phase and provides information about the results coming from ionic interaction to the enginerr. It has 3 modes: Inlay prediction, Brine mixture, Profile analysis. It is possible to predict the inlay forming behavior by obtaining rates, fouling capacity and precipitation rate.
Characteristics:
User-friendly interface software.
The results are given in charts and graphics, allowing accurate report generation.
Management for the simulation of sessions.
More than 30 different kind of inlays are analyzed.
The model is valid for large range of ionic strength, temperature and pressure.

---
Ciwell: Software tool for failure probability prediction of wells, based on design information, operational conditions, fluid composition and work previously done. It offers the calculation of:
Corrosion rate
Erosion
Formation of incrustations tendency
Condensation
Quantitative failure probability by fuzzy modeling

---
Dawell: Computer tool for accumulative damage estimation of both the tubing and linier from a petroleum production well due to mechanical intervention or chemical stimulation. Predictive model in function of the time that allows behavior estimation of the linier and tubing integrity.

---
Delfos: Software tool for the identification of points with failure probability due to internal and external corrosion threats. Applicable to multiphasic flow lines that can´t be checked by an inspection PIG.
Characteristics:
Desktop tool
Import from an excel format and sessions establish in the tool
Export to an Excel and PDF format
Geo-referenced online map

---
E- Learning: The E-Learning platform was conceived as a support tool during personnel training through course introductions, topics of interest and relevant documentation. Based on an a self-taught methodology using the advantages of the internet. It allows users content and evaluation management through a web interface.
---
Proteck DS:
Software tool for the optimal distribution of sacrificial anode of ships up to 3600 tons.
Proteck DS calculates through advanced numerical methods the location of each anode and the ship protection, achieving an accurate cathodic protection.
The tool allows to import AutoCAD plans, generate report and find out the costs of the respective cathodic design.

---
Shirec:
It is an online consultant for the design and selection of coating systems according to the costumer requirement. Ideal for consultants, auditors, researchers, maintenance engineers, industrial and technical advisors, designers and assets integrity groups.
Characteristics:
Knowledge management system.
User-friendly interface software.
Web application.
Presents information obtained through projects developed in the coating field.

---
SIGCO: Information system that allows to manage established processes by the corrosion management system. The system includes the information from the corrosion control programs in plants (humid gas sub system, water produced, amina plant, glycol regeneration unit), wells and flow lines from fields.
Characteristics:
It enables data to be centralized.
Continuous evaluation of corrosion threats.
Integration and processing of information about: risk analysis activities, mitigation plans, monitoring and inspection plans.
Performance evaluation of the programs.
Easy access in order to ensure a flow of information for the personnel involved in the process.

---
SIGMI: Information system capable of storage, visualize and update data corresponding to 21 transportation line integrity threats. The software consists of 4 modules: base line, risks, action plans and assurance. SIGMI allows a group of engineers make accurate decisions where risk is involved.
Characteristics:
Multiuser system that can be customized with the information and users management.
Useful data entry by using templates.
Detailed line structuring with line segmentation based on standards.
Floating windows and menus that can be deployed in order to achieve easy use and administration.

---
SIMOC: Web tool that allows the administration of information originated by the laboratory and the internal corrosion monitoring team.
Supported activities:
Registration of laboratory test.
Corrosion monitoring by coupons and tests.
Measurement of corrosive gases.
Chemical injection (well and field).
Allows to program monitoring routines from the monitoring team and the chemical injection.
Characteristics:
Generation of PDF or Excel reports.
Creation of customize graphic reports.
Storage of PDF documents in order to support activities.
Estimation of fulfillment indicators.

---